We are a nation of ultra-processed-food eaters. Our lives have become too fast-paced to cook from scratch and our tastebuds now crave the sweet and salty flavours that ultra-processed foods deliver. Our bread is fluffy and sticks to the teeth like candyfloss. Our yoghurts are super-sweet and creamy. We have ready meals that are shelf-stable (long life without refrigeration), which we can prise open, heat, eat and go.
Nutritionists are alarmed. The ultra-processed foods we tend to eat now are calorie-dense and a major contribution to obesity. They have also been stripped of bioactive compounds such as phytoestrogens and fibre, which we know are good for us. All we get is calories (and occasionally added vitamins). And although individually they are all approved for safety, we have no idea what effect the cocktail of additives might have on us in the long term.
A group of international scientists has produced what they call the Nova definition of four classes of food, from fruit and vegetables in their natural state to ultra-processed, which are, they say, "industrial formulations typically with five or more and usually many ingredients". These include "substances not commonly used in culinary preparations", and contain additives "whose purpose is to imitate sensory qualities" of natural foods such as fruit. They are, says Prof Carlos Monteiro from the University of São Paulo in Brazil, "intrinsically unhealthy".
"Maybe many of these preservatives are innocuous but even if only 10% or even 1% of them are harmful, people are unnecessarily exposed to harm," he says. And they are re-educating our taste preferences. "The hyper-palatability tends to make people eat more than they need and make people used to accentuated flavours they will not find in most real foods."
His collaborator Prof Jean-Claude Moubarac, from the department of nutrition at the University of Montreal, Canada, goes further. These foods cause social and cultural damage, he says. "They promote overconsumption and a relationship to food that is characterised by compulsion, stress and anxiety."
We looked at what is actually in 10 of Britain's favourites, choosing a top seller from 10 categories of packaged foods tracked by Euromonitor International. What is the country eating?
Bernard Matthews Turkey Dinosaurs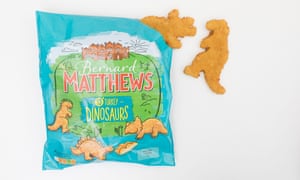 Ingredients: turkey 46%, breadcrumb (wheat flour (calcium carbonate, iron, niacin, thiamin), salt, yeast, turmeric, turmeric extract, colour (paprika extract)), water, rapeseed oil, batter (wheat flour (calcium carbonate, iron, niacin, thiamin), salt), starch, skimmed milk powder, milk protein, salt, potassium chloride, natural flavouring (milk), lemon juice concentrate, spirit vinegar.
"Something that has only 46% turkey is going to be full of a lot of other stuff," says Scott; we should therefore be wary of this, nutritionally, if we're looking for a healthy source of protein.
In spite of the breadcrumbs, there's not much fibre – 0.7g per 100g once cooked. The company's website promotes its dinosaurs as "Jurassic fun for kids" with "no artificial colours, flavours or preservatives", but, says Scott, "I don't know anyone who would have paprika extract in their home kitchen." Paprika extract is a highly concentrated oil-soluble extract from capsicum pods. Nor would they have milk protein, which is extracted in a factory, or skimmed milk powder. The dinosaurs also contain two forms of salt – sodium chloride and potassium chloride, making up 16% of a child's daily allowance in 100g (just over two dinosaurs).
Bernard Matthews did not respond to requests for comment.
Batchelors Pasta 'n' Sauce – chicken and mushroom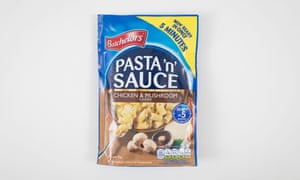 Ingredients: pasta tubes (84%) (durum wheat semolina, wheat flour), maize starch, whey powder (milk), yeast extract, salt, onion powder, flavourings, mushroom juice concentrate (0.5%), vegetable oils (sunflower, palm), dried parsley, sugar, ground turmeric, chicken fat, black pepper extract.
Scott says she did a double take at this list of ingredients. "Unfortunately, there is no chicken or mushroom in the chicken and mushroom sauce. There is chicken fat and there is mushroom juice concentrate," she says. The mushroom juice concentrate will have had the fibre and vegetable micronutrients pounded out of it in the industrial process.
Premier Foods, which makes Batchelors and also Mr Kipling cakes, says: "Processing plays a very important role in food safety and preservation. We recognise the importance of healthy lifestyles and balanced choices, and continually work on developing increasingly healthy and convenient options for consumers, as well as having an increased focus on positive nutrients such as fibre and protein."
Drying foods was one of the oldest preservation methods, they say. "Batchelors Pasta 'n' Sauce is low in fat, has no added MSG and no artificial colours or preservatives."
Young's Seafood Sticks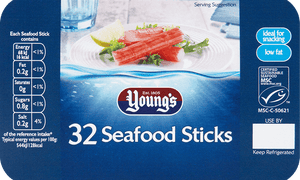 Ingredients: water, surimi (35%) [processed alaska pollock protein (fish), sugar], potato starch, sugar, wheat starch, salt, rapeseed oil, soya protein, flavourings [contains crustaceans, flavour enhancers: disodium inosinate, ribonucleotides], egg albumen powder, colours: carmine, capsanthin; yeast.
A gold star for anyone who knows how surimi is made. It does contain Alaska pollock – but not whole slices or chunks of fish, just the protein; it is fish that has been mechanically beaten and pulverised to a paste. As it is tasteless and shapeless, sugar is added, followed by a host of additives – two forms of starch and some shellfish bits and flavour enhancers – so it can be formed into a solid, fishy-tasting stick.
Young's said it would not be able to comment.
Fray Bentos steak and kidney pie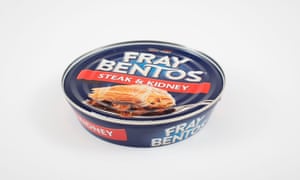 Ingredients: water, puff pastry (27%) (wheatflour (with calcium carbonate, iron, niacin, thiamin), margarine (palm oil, rapeseed oil, water, salt, emulsifier (mono- and diglycerides of fatty acids)), water, salt), beef (12%), pork kidney (9%), stabiliser (xanthan gum), modified maize starch, wheatflour (with calcium carbonate, iron, niacin, thiamin), salt, spices, yeast extract, flavouring, tomato paste, barley malt extract, beef extract, chicory extract, sugar, colour (plain caramel), tomato powder, garlic powder.
This is one of the bestsellers in Euromonitor's shelf-stable category. Water is the first item on the ingredients list, followed by the puff pastry. The meat is only a fifth of this tinned pie. "The thing that struck me about this product was the amount of processed ingredients that you wouldn't find at home – emulsifiers, stabilisers, malt barley extract. It's a pie but it also has sugar in it," says Scott. One pie is supposed to be for two people, but "I don't know who eats half a pie." A whole one would deliver 60% of the daily salt intake and nearly 20% of fat.
There is no veg. "Fresh foods rich in bioactive compounds (flavonoids, for instance), including onions, garlic and other foods used in freshly prepared dishes are absent from these products," says Monteiro. "Being ready-to-eat products, it is unlikely they will be consumed with fresh foods that usually need preparation. On the contrary, one ultra-processed food tends to be consumed with other ultra-processed foods."
Xanthan gum is not from an exotic tree. It is fermented sugar. The name comes from the type of bacteria used. It is a stabiliser to bind together ingredients such as fat and water that would otherwise repel each other.
Fray Bentos did not respond to requests for comment.
Warburtons white bread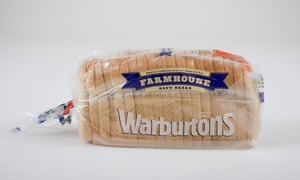 Ingredients: wheat flour [with calcium, iron, niacin (B3) and thiamin (B1)], water, yeast, salt, vegetable oil (rapeseed, sustainable palm), soya flour, preservative: calcium propionate; emulsifiers: E481, E472e; flour treatment agent: ascorbic acid (vitamin C).
The launch of the Chorleywood Process in 1961 changed the UK's bread drastically. This was the discovery of how to go from a pile of flour to sliced, plastic-wrapped bread in three to four hours, using lower-protein wheat, vitamin C, fat, yeast and high-speed mixers. Bread gained additives, "relaxants to overcome the stress of the machine and then tighteners again", Young says. "It was a milestone – or tombstone – in the history of bread."
A Warburtons spokesperson says bread is one of the UK's main sources of dietary fibre. "It is misleading to consider mass-produced bread an 'ultra-processed food'. We bake it fresh, every day, using the same methods you would at home. However, in order to meet demand and ensure that we are able to produce affordable products for our consumers, we do this on a much larger scale."
McVitie's milk chocolate digestives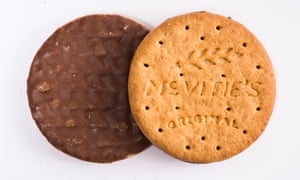 Ingredients: fortified wheat flour (39%) (with calcium, iron, niacin, thiamin), milk chocolate (30%) [sugar, cocoa butter, cocoa mass, dried skimmed milk, dried whey (milk), butter oil (milk), vegetable fat (sal and/or shea, palm), emulsifiers (soya lecithin, E476), natural flavouring], vegetable oil (palm), wholemeal wheat flour (9%), sugar, glucose-fructose syrup, raising agents (sodium bicarbonate, malic acid, ammonium bicarbonate), salt.
There is lots of sugar in this, predictably – and not just sugar (twice) but glucose-fructose syrup. Dried skimmed milk will also be sweet. The digestives also contain palm oil, much used in ultra-processed foods. "Health-wise, palm oil is not fantastic because it is a highly saturated fat. It is being used instead of trans fats, which used to be commonly found in this type of product," says Scott. "From a nutritional perspective, we've swapped one particularly unhealthy fat for one that isn't particularly good for you either." There are also concerns about the environmental impact of farming and harvesting palm oil.
McVitie's says it provides transparent information so people can make healthy snacking choices. "Biscuits are simply baked by combining a few ingredients. They are a source of fibre and adhere to strict nutrition guardrails," it says.
Müller Corner Crunch toffee hoops yoghurt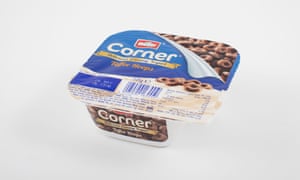 Ingredients: yoghurt (milk), sugar, water, cocoa butter, milk powder, flour (rice, wheat, maize), cocoa mass, modified starch, whey powder (milk), lactose (milk), flavourings, wheat starch (gluten), caramel, stabilisers: carob bean gum, guar gum, pectins, acacia gum; emulsifier: soya lecithin; salt, barley malt, vegetable fats (palm,